Jan Roberts
(born April 11, 1939 in Brooklyn, New York) is a former
American
adult model
who was
Playboy
magazine's
Playmate of the Month
for its August 1962 issue. Her centerfold was photographed by Pompeo Posar. She also appeared in Playboy magazine issues of January 1963, July 1963, October 1964, and August 1966.
Joey Gibson
(born 11 August 1945 in Santa Monica, California) is an
American
adult model
who was
Playboy
magazine's
Playmate of the Month
for its June 1967 issue. Her centerfold (shot on a beach while building a sandcastle in the nude) was photographed by Peter Gowland.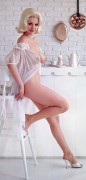 UHQ centerfold (4241 x 8904 pixels - 8.17 MB)
UHQ centerfold (4391 x 7938 pixels - 5.37 MB)
http://bygonevenus.blogspot.com.ar/2012/02/jan-roberts.html
http://linhlac12345.blogspot.com.ar/2011/10/jan-roberts-aug-1962.html
http://linhlac12345.blogspot.com.ar/2011/10/joey-gibson-jun-1967.html
https://mocholand.wordpress.com/2014/07/10/joey-gibson/
http://soul-food-inc.blogspot.com.ar/2012/05/pouf.html
http://thethoughtexperiment.wordpress.com/2010/10/06/girls-of-summer-jan-roberts-miss-august-1962/
http://vintage-erotica-forum.com/t7163-jan-roberts.html
http://vintage-erotica-forum.com/t12001-joey-gibson.html
http://www.boobpedia.com/boobs/Big_Breasted_Playboy_Playmates
http://www.boobpedia.com/boobs/Jan_Roberts
http://www.boobpedia.com/boobs/Joey_Gibson
http://www.imagebam.com/gallery/oejw4mhprpl0ttmws9s6wz9j2vsue2y2/